Penggunaan Lengan Robot Dalam Penggredan Buah Tembikai
Abstract
Abstract: The use of a robotic arm in agriculture is an immediate need to overcome labour shortage and dependence on foreign labour, especially in fruit harvesting and postharvest activities such as watermelon grading. The research was conducted to evaluate the effect of the fruit grading system using a robotic arm with a suction cup on fruit quality, such as general appearance (bruising, fungal infection on stem and fruit surface, and overall acceptability rating), endocarp colour and firmness, as well as composition data for watermelons stored at 25 °C for 28 days. All samples showed no signs of external and internal injuries up to 3 weeks. The incidence of fungal infection occurring at the tip of the stem was detected on the third week and it was not directly related to the use of the robotic arm. On the third week, the bruising symptoms were visible regardless of the treatment. There were no significant differences in watermelon endocarp colour and firmness, soluble solids content, total titratable acidity, ascorbic acid content, and moisture content. In conclusion, using a robotic arm with a suction cup during the watermelon grading process does not cause external and internal injury on the watermelon fruit.
Abstrak:
Penggunaan lengan robot dalam bidang pertanian merupakan keperluan terkini terutama dalam kerja penuaian produk buah-buahan serta aktiviti-aktiviti lepas tuai seperti penggredan buah tembikai dalam mengatasi masalah kekurangan tenaga buruh serta kebergantungan pada tenaga buruh asing. Kajian telah dijalankan untuk melihat kesan sistem pengendalian penggredan buah tembikai menggunakan lengan robot ke atas kecederaan luaran dan dalaman buah tembikai seperti skor luaran (jangkitan kulat di tangkai dan bahagian dalaman serta insiden lebam pada kulit), perubahan warna isi, ketegaran endokarpa dan data komposisi isi untuk tembikai yang disimpan selama 28 hari pada suhu 25 °C. Semua sampel buah tembikai menunjukkan tiada kesan kecederaan di bahagian luaran dan dalaman sehingga minggu ke-3.Insiden jangkitan kulat yang berlaku pada hujung tangkai dikesan pada minggu ketiga dan iaadalah tidak berkaitan dengan penggunaan lengan robotikKesan lebam juga dapat dilihat ketara pada minggu ke-3 tanpa mengira rawatan. Tiada perbezaan signifikan pada warna isi tembikai, ketegaran kulit, kandungan pepejal terlarut, jumlah keasidan tertitrat, kandungan asid askorbik dan kandungan kelembapan. Kesimpulannya, penggunaan lengan robot untuk diaplikasikan semasa aktiviti penggredan buah tembikai dengan suction cup tidak mendatangkan kesan kecederaan luaran dan dalaman ke atas buah tembikai.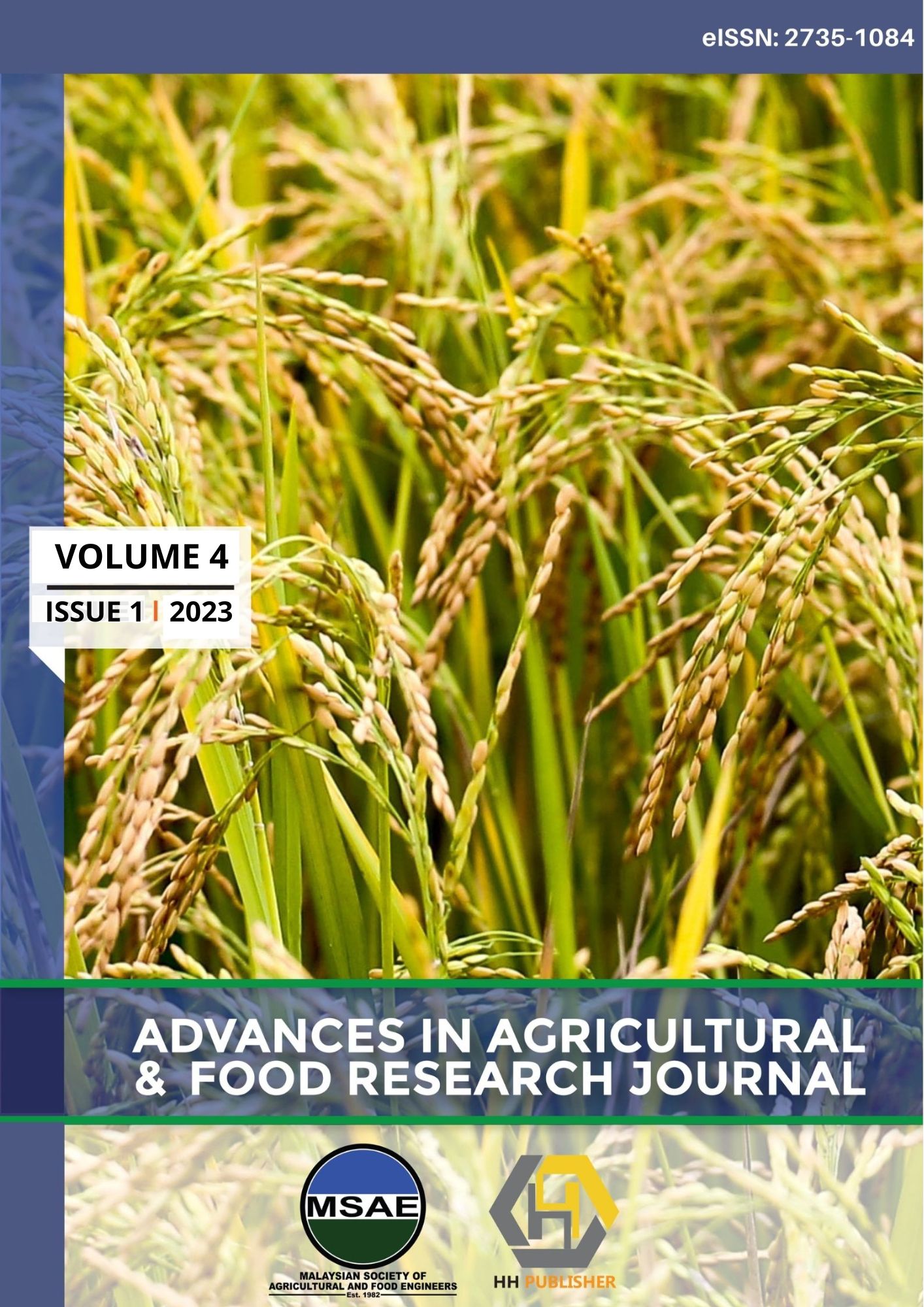 Downloads
Section
SHORT COMMUNICATION
License
Copyright (c) 2023 Badaruzzaman Mohamad Noh, Nur Azlin Razali, Chin Chuang Teoh, Masniza Sairi
This work is licensed under a Creative Commons Attribution-NonCommercial 4.0 International License.
Author(s) shall retain the copyright of their work and grant the Journal/Publisher right for the first publication with the work simultaneously licensed under:
Creative Commons Attribution-NonCommercial 4.0 International (CC BY-NC 4.0). This license allows for the copying, distribution and transmission of the work, provided the correct attribution of the original creator is stated. Adaptation and remixing are also permitted.

This broad license intends to facilitate free access to, as well as the unrestricted reuse of, original works of all types for non-commercial purposes.

The author(s) permits HH Publisher to publish this article that has not been submitted elsewhere.

Abstract viewed = 33 times PDF downloaded = 15 times