Automated Controlled Environment Mushroom House
Abstract
Mushroom can be served as flavoursome food, but most importantly, it can be served as nutritional and medicinal value food. Therefore, a mushroom is an essential commodity under the Malaysia National Agro-Food Policy. Currently, mushroom cultivation is being done in the conventional method, not in a proper and hygienic condition. Therefore controlled environment mushroom house (CEMH) has been developed by transforming a greenhouse into a controlled environment mushroom house integrated with the internet of things (IoT) system. This CEMH micro-climate is automatically controlled by the combination of data parameters provided by various types of sensors. The integration of the IoT system has further enhanced this system to overcome extreme weather changes and override the control anytime and anywhere. The computation and monitoring process can be done either locally or remotely. The current system is set up for Grey Oyster mushroom (Pleurotus pulmonaris) cultivation to identify the best isolate to be proposed for mass production. The interconnection of sensors, mechanical and electronic systems is to optimize the growth condition. The developed system manages to control the temperature consistently and relative humidity (% RH) in the range of 18oC to 27oC and % RH not lower than 70%, respectively. For this condition, this system can produce at least 30% more yield than ordinary mushroom houses. Moreover, the contamination rate is successfully kept below 2% and is considered very low compared to ordinary entrepreneur mushroom houses, usually more than 10%. This system can provide the research facility for the high nutritional and medicinal value mushrooms.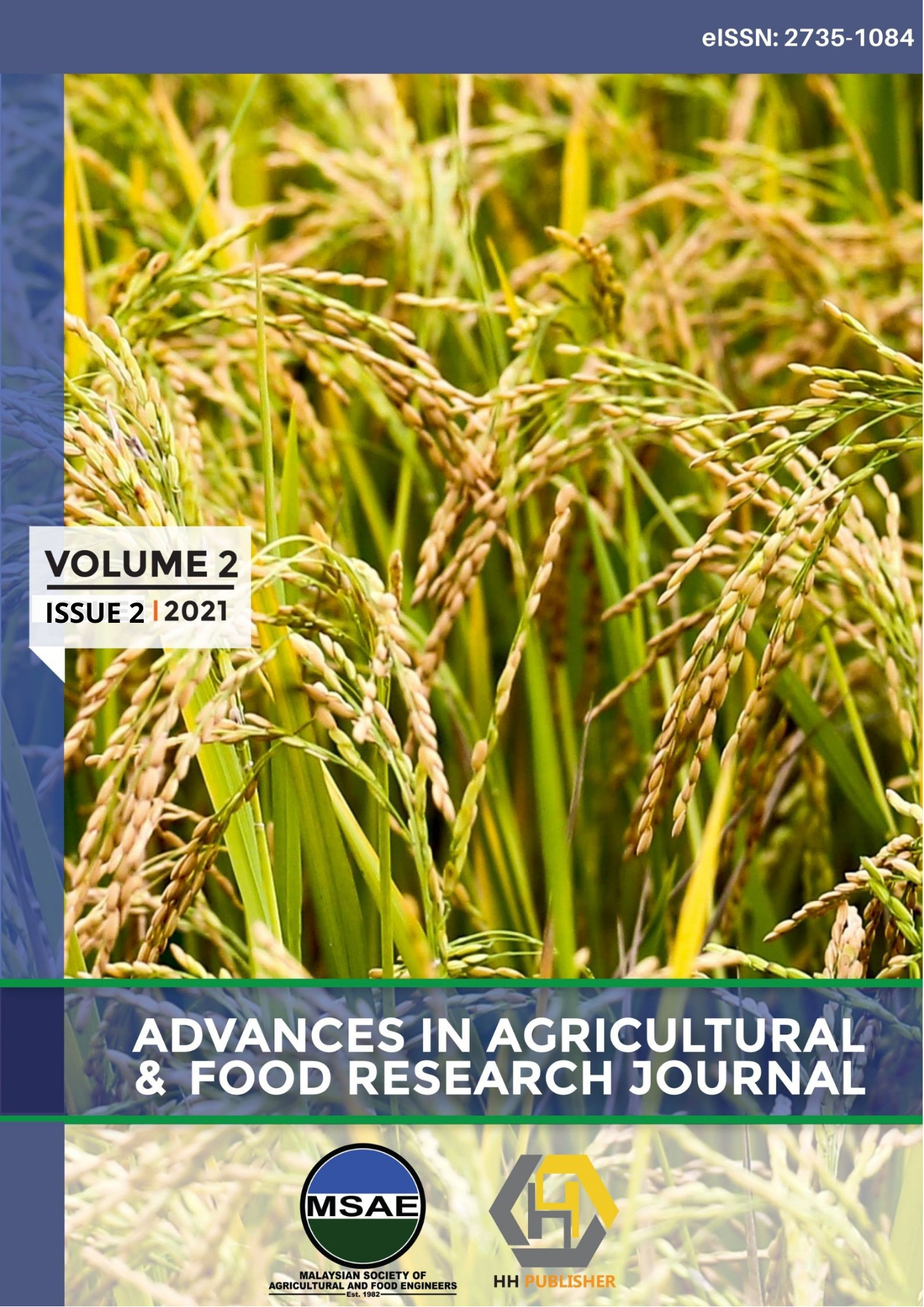 Downloads
Section
ORIGINAL RESEARCH ARTICLE
License
Copyright (c) 2021 Seng Teik Ten, Gaisan Krishnen, Khairul Asfamawi Khulidin, Muhd Akhtar Mohamad Tahir, Mohamad Hafiz Hashim, Syaliyana Khairudin
This work is licensed under a Creative Commons Attribution-NonCommercial 4.0 International License.
Author(s) shall retain the copyright of their work and grant the Journal/Publisher right for the first publication with the work simultaneously licensed under:
Creative Commons Attribution-NonCommercial 4.0 International (CC BY-NC 4.0). This license allows for the copying, distribution and transmission of the work, provided the correct attribution of the original creator is stated. Adaptation and remixing are also permitted.

This broad license intends to facilitate free access to, as well as the unrestricted reuse of, original works of all types for non-commercial purposes.
The author(s) permits HH Publisher to publish this article that has not been submitted elsewhere.