Preliminary Study on Pesticide Application in Paddy Field using Drone Sprayer
Abstract
The usage of Unmanned Aerial Vehicles (UAV) or drones in agriculture is still new in Malaysia. There are very few studies to determine the effectiveness of spraying chemicals using a drone that can suit the weather and environmental factors in Malaysia. This paper aims to investigate the efficacy of the pesticide application using a drone sprayer in a paddy field. The plot is 0.5 hectares located at MARDI Seberang Perai. The study was done from June until November 2019. The pesticide application was carried out 4 times which was 32 days after sowing (DAS), 46 DAS, 70 DAS, and 102 DAS. There were two types of chemicals used in this experiment, which were used to control the pesticide and the disease. The study involves two methods of chemical application, which were drone and knapsack applications. The number of pesticides and percentages of disease attacks was taken within 1 week before and after spraying. From the results, the application of the drone on pesticides spraying was not any different with manual application with the current normal practices nowadays. Rice farmers have the option to choose what application to use in their field to control insect pests. In this, they have to consider the cost, availability, field and hazardous conditions. However, to get a better result, this experiment should be repeated during suitable seasons.
References
Boguslawa Berner, Jerzy Chojnacki, Use of Drone in Crop Protection, IX International Scientific Symposium "Farm Machinery and Processes Management in Sustainable Agriculture", Lublin, Poland, 2017
Pinter, Paul J. Jr.; Hatfield, Jerry L.; Schepers, James S.; Barnes, Edward M.; Moran, M. Susan; Daughtry, Craig S. T.; and Upchurch, Dan R., "Remote Sensing for Crop Management" (2003). Publications from USDA-ARS / UNL Faculty. 1372.
P. V. Prasad Reddy, Dr. K Sudhakar Reddy, N.Vijaya Rami Reddy, Design and Development of Drone for Agricultural Applications, International Journal of Latest Engineering and Management Research (IJLEMR) 2017
Durham K. Giles*, Ryan C. Billing Deployment and Performance of a UAV for Crop Spraying, Chemical Engineering Transactions vol 44 2015
Shelpa Kedari, Pramod Lohagaonkar, Monika Nimbokar, Gangaram Palve and Prof Pallavi Yevale. Quadcopter- A Smart Way of Pesticide Spraying. Imperial Journal of Interdisciplinary Research 2016
He Xiongkui, Jane Bonds, Andreas Herbts, Jan Langenakens, Recent Development of Unmanned Aerial Vehicle for Plant Protection in East Asia, International Journal of Agricultural and Biological Engineering 2017
Huang Y., Thomson S.J., Hoffman W.C., Lan Y., Fritz B.K. 2013. Development and prospect of unmanned aerial vehicle technologies for agricultural production management. Int. J. Agric. Biol. Engine. 6:1-10
Azmi M., Alias I., Abu H.D., Ayob A.H, Azmi A.R., Badrulhadza A., Maisarah M.s., Muhamad H., Othman O., Saad A., Sariam O., Siti N.M., Syahrin S., Yahaya H., Manual Teknologi Penanaman Padi Lestari, 2008
Saddam Hussain, M. Jehanzeb Masud Cheema, M. Arshad, Ashfaq Ahmad, M. Ahsan Latif, Shaharyar Ashraf and Shoaib Ahmad, Spray Uniformity Testing Of Unmanned Aerial Spraying System For Precise Agro-Chemical Applications, Pak. J. Agri. Sci., Vol. 56(X), xxx-xxx; 2019 ISSN (Print) 0552-9034, ISSN (Online) 2076-0906 DOI:10.21162/PAKJAS/19.8594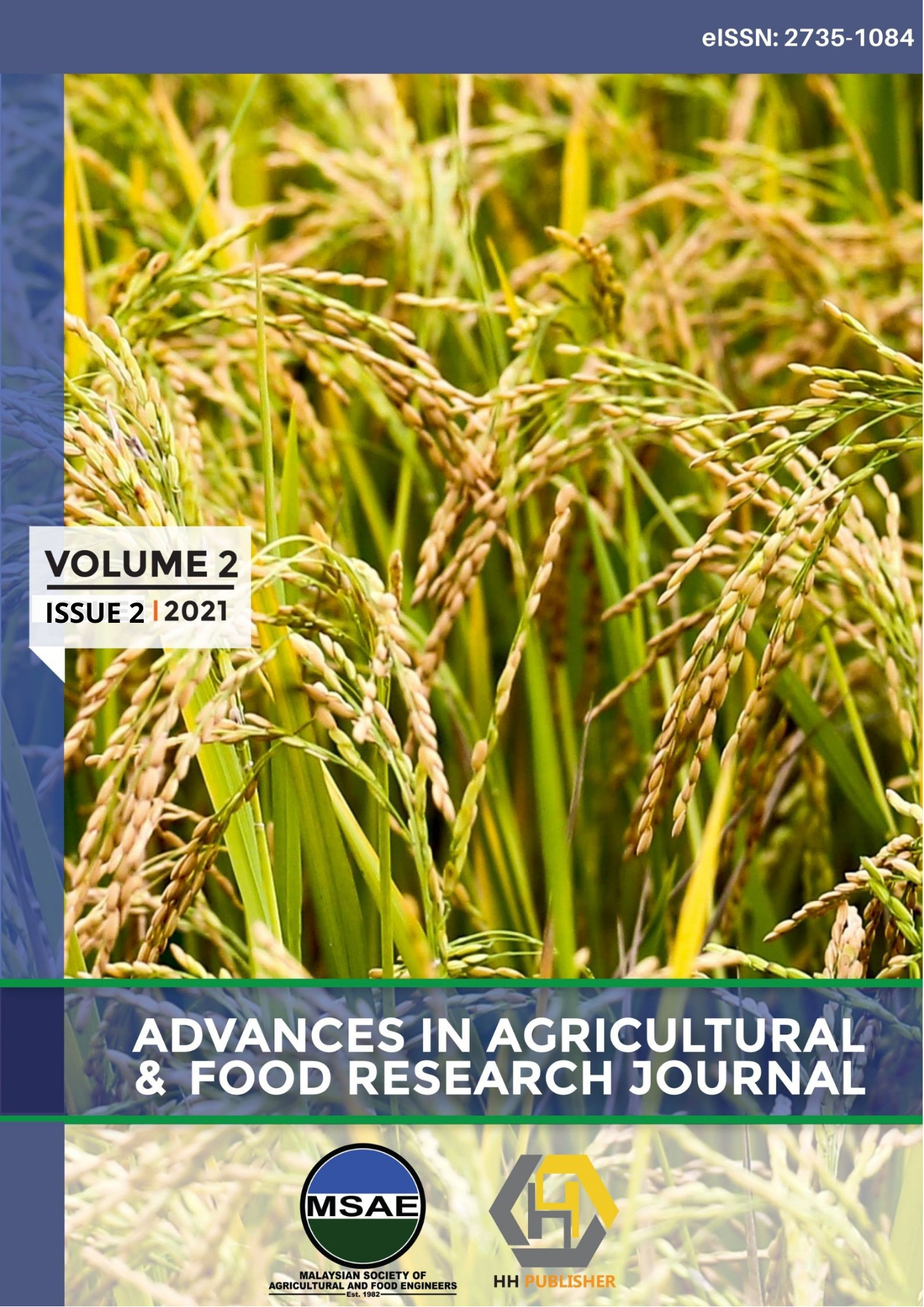 Downloads
Section
ORIGINAL RESEARCH ARTICLE
License
Copyright (c) 2021 mohd nadzim nordin
This work is licensed under a Creative Commons Attribution-NonCommercial 4.0 International License.
Author(s) shall retain the copyright of their work and grant the Journal/Publisher right for the first publication with the work simultaneously licensed under:
Creative Commons Attribution-NonCommercial 4.0 International (CC BY-NC 4.0). This license allows for the copying, distribution and transmission of the work, provided the correct attribution of the original creator is stated. Adaptation and remixing are also permitted.

This broad license intends to facilitate free access to, as well as the unrestricted reuse of, original works of all types for non-commercial purposes.
The author(s) permits HH Publisher to publish this article that has not been submitted elsewhere.