Utilization of Sweet Potato in Development of Boba
Abstract
Currently, boba phenomenon is extensively consumed by all generations from children to the elders. Boba which known as tapioca balls are originally made up of tapioca starch which then is served with milk tea. This sweet potato has lower calories than tapioca which can give benefits to the consumer since it has a lot of nutritional value such as high β-carotene, vitamin C, higher value of dietary fiber, higher antioxidants level and higher in protein content. Therefore, in this research this sweet potato flour were prepare in three sample which are sweet potato flour was substituted with 50% sweet potato flour and 50% tapioca flour, 100% sweet potato flour with added of two types of gelatine which are fish gelatine and bovine gelatine to make the boba pearls. This substitution will affect the physicochemical properties of the mixture such as pH and textural properties such as chewiness and energy needed to chew. As the results, the boba with fish gelatine has lower energy needed to chew which make it suitable for all level of generation which has chewiness value of 217.678±3.803 g with energy needed to chew is 4136.833±39.08382 g.%. With the growing of boba phenomenon, the findings from this study can help the consumers to continue consuming their favourite beverages will eating in healthy lifestyle.
References
Aprianita, A., Purwandari, U., Watson, B. and Vasiljevic, T. 2009. Physico-chemical properties of flours and starches from selected commercial tubers available in Australia. International Food Research Journal 16 (4):507-520.
Adeleke, R. O. & Odedeji, J.O. (2010). Functional properties of wheat and sweet potato flour blends. Pakistan Journal of Nutrition, 9(6), 535-538.
Ashogbon, A. and Akintayo, E. 2012. Morphological, functional and pasting properties of starches separated from rice cultivars grown in Nigeria. International Food Research Journal 19 (2): 665-671.
Brennan, C. and Samyue, E. 2004. Evaluation of starch degradation and textural characteristics of dietary fiber enriched biscuits. International Journal of Food Properties 7 (3): 647-657.
Carbohydrate and fiber recommendations for individuals with diabetes: a quantitative assessment and meta-analysis of the evidence. Journal of the American College of Nutrition. Retrieved from https://www.ncbi.nlm.nih.gov/pubmed/14963049
Liu, Q. (2005), "Understanding starches and their role in foods". In Food Carbohydrates, Steve W. Cui. ed. CRC Press, USA.
Mais, A. and Brennan, C. S. 2008. Characterisation of flour, starch and fibre obtained from sweet potato (kumara) tubers, and their utilisation in biscuit production. International Journal of Food Science & Technology 43(2): 373-379.
Mohd Hanim, A.B., Chin, N.L. and Yusof, Y.A. 2014. Physico-chemical and flowability characteristics of a new variety of Malaysian sweet potato, VitAto Flour. International Food Research Journal 21(5):2099-2107(2014).
Sabeetha Sarmin, Mohamed Nazim Anvarali, Nor Azmah Umar, Siah Wat Moey, Nur ilida Mohamad dan Dayana Mohamed Nezuri (2016). Complementary baby food from local sweet potato (VitAto). Buletin Teknologi MARDI, Bil. 9(2016): 73 – 78
Smith, D. A. & Stratton, J. E. (2007). Food preservation, safety and shelf life extension. Food processing entrepreneurs series. University of Nebraska-Lincoln Extension. Retrieved from http://ianrpubs.unl.edu/live/g181 6/build/g1816.pdf.
United States Department of Agriculture (USDA). (2012). Household USDA food fact sheet. Retrieved from http://www.fns.usda.gov/sites/default/files/ HHFS SWEET%20POTATOES FRESH D ec%202012.pdf.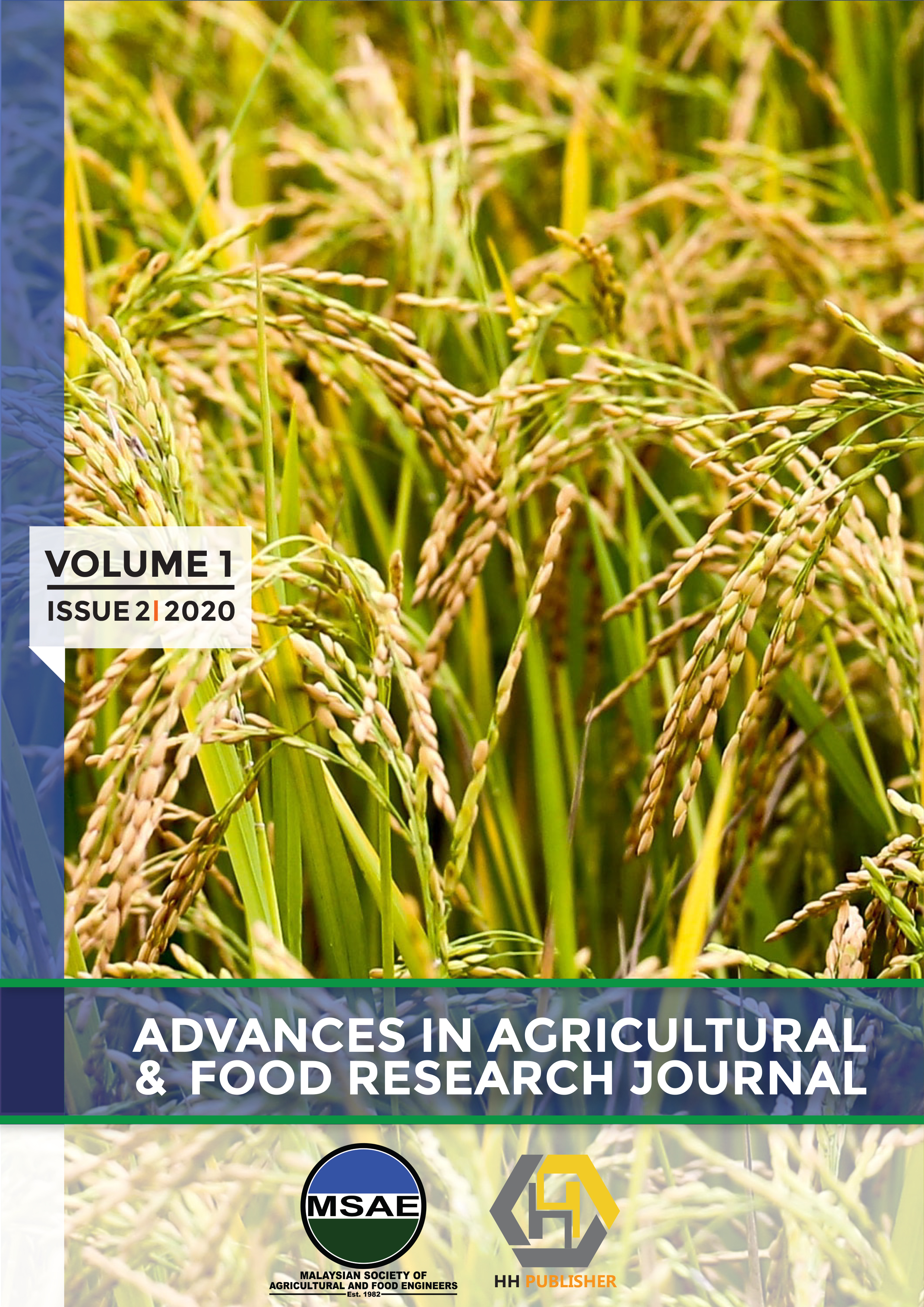 Downloads
Section
ORIGINAL RESEARCH ARTICLE
License
Copyright (c) 2020 Anis Syafikah Mohd Yusof, Zanariah Mohd Dom, Rosnah Shamsudin
This work is licensed under a Creative Commons Attribution-NonCommercial 4.0 International License.
Author(s) shall retain the copyright of their work and grant the Journal/Publisher right for the first publication with the work simultaneously licensed under:
Creative Commons Attribution-NonCommercial 4.0 International (CC BY-NC 4.0). This license allows for the copying, distribution and transmission of the work, provided the correct attribution of the original creator is stated. Adaptation and remixing are also permitted.

This broad license intends to facilitate free access to, as well as the unrestricted reuse of, original works of all types for non-commercial purposes.
The author(s) permits HH Publisher to publish this article that has not been submitted elsewhere.