Banana Powder Production via Foam Mat Drying
Abstract
Banana puree is one of the main commercial banana products available in the market worldwide. However, like other purees, banana puree deteriorates quite rapidly and gets a chilling injury when refrigerated. Therefore, this study focused on the dehydration of banana puree using a foam mat drying (FMD) technique to prolong its shelf life. It involved whipping the banana puree to form foams with the help of whey protein concentrate (WPC) and carboxymethyl cellulose (CMC) as the foaming agent and foam stabilizer, respectively. The study evaluated the effect of different foaming agent percentages (5, 7.5, 10, 12.5 and 15%) and drying temperatures (50, 60, 70 and 80°C) on the production of the foam mat dried banana powder. Besides that, the drying curves of banana puree using FMD and oven drying methods were compared. The banana powders produced were also analyzed in terms of the foam density, moisture content, solubility, color (browning index) and flowability (caking strength). Based on the findings, the FMD technique has proven to produce a good quality banana powder better than the control sample especially at a higher foaming agent concentration (15%) and drying temperature (80°C). By using the FMD technique, the banana puree has the capacity to be dried three times faster compared to the conventional oven drying method to form a more stable banana powder.
References
Abbasi, E. & Azizpour, M. (2016). Evaluation of physicochemical properties of foam mat dried sour cherry powder. LWT - Food Science and Technology, 68, 105–110.
Affandi, N., Zzaman, W., Yang, T. A., et al. (2017). Production of Nigella sativa beverage powder under foam mat drying using egg albumen as a foaming agent. Beverages, 3(1), 1-15.
Bag, S. K., Srivastav, P. P. & Mishra, H. N. (2011). Optimization of process parameters for foaming of bael (Aegle marmelos l.) fruit pulp. Food and Bioprocess Technology, 4(8), 1450–1458.
Cano-Chauca, M., Stringheta, P. C., Ramos, A.M., et al. (2005). Effect of the carriers on the microstructure of mango powder obtained by spray drying and its functional characterization. Innovative Food Science and Emerging Technologies, 6(4), 420–428.
Sampath Kumar, K. P., Debjit B., Duraivel, S., et al. (2012). Traditional and medicinal uses of banana. Journal of Pharmacognosy and Phytochemistry, 1(3), 51–63.
Franco, T. S., Perussello, C. A., Ellendersen, L. N., et al. (2016). Effects of foam mat drying on physicochemical and microstructural properties of yacon juice powder. LWT - Food Science and Technology, 66, 503–513.
Nasser, S., Moreau, A., Jeantet, R., et al. (2017). Influence of storage conditions on the functional properties of micellar casein powder. Food and Bioproducts Processing, 106, 181–192.
Sangamithra, A., Sivakumar, V., Kannan, K., et al. (2015). Foam-mat drying of muskmelon. International Journal of Food Engineering, 11(1), 127–137.
Seerangurayar, T., Manickavasagan, A., Al-Ismaili, A.M., et al. (2017). Effect of carrier agents on flowability and microstructural properties of foam-mat freeze dried date powder. Journal of Food Engineering, 215, 33–43.
Shah, R. B., Tawakkul, M. A. & Khan, M.A. (2008). Comparative evaluation of flow for pharmaceutical powders and granules. AAPS PharmSciTech, 9(1), 250–258.
Wilson, R. A., Kadam, D. M., Chadha, S., et al. (2014). Evaluation of physical and chemical properties of foam-mat dried mango (Mangifera Indica) powder during storage. Journal of Food Processing and Preservation, 38(4), 1866–1874.
Yap, M., Fernando, W. M. A. D. B., Brennan, C. S., et al. (2017). The effects of banana ripeness on quality indices for puree production. LWT - Food Science and Technology, 80, 10–18.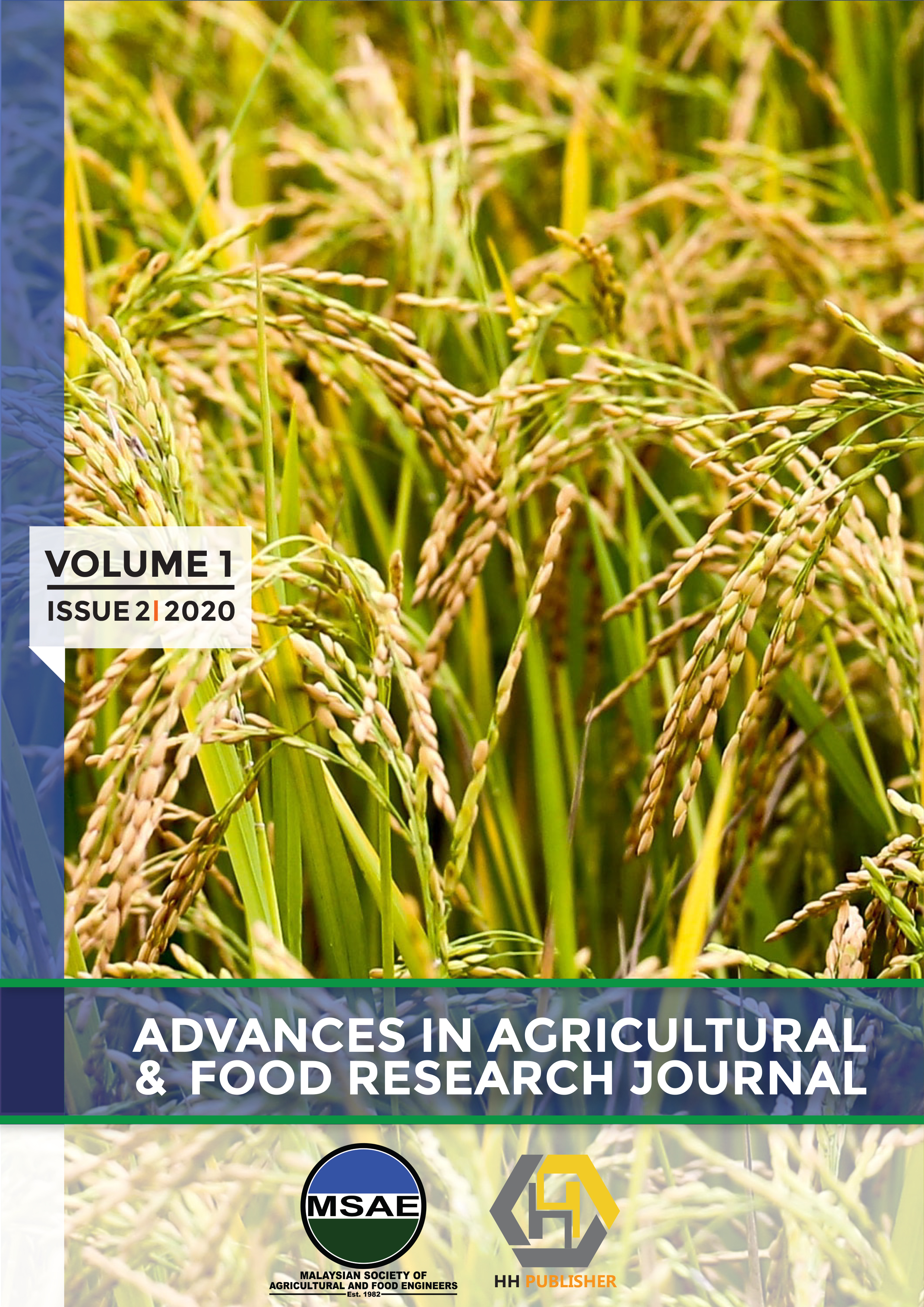 Downloads
Section
ORIGINAL RESEARCH ARTICLE
License
Copyright (c) 2020 Siti Amirah Razali, Mohd Zuhair Mohd Nor, Mohd Shamsul Anuar, Rosnah Shamsudin, Wan Anwar fahmi Wan Mohamad
This work is licensed under a Creative Commons Attribution-NonCommercial 4.0 International License.
Author(s) shall retain the copyright of their work and grant the Journal/Publisher right for the first publication with the work simultaneously licensed under:
Creative Commons Attribution-NonCommercial 4.0 International (CC BY-NC 4.0). This license allows for the copying, distribution and transmission of the work, provided the correct attribution of the original creator is stated. Adaptation and remixing are also permitted.

This broad license intends to facilitate free access to, as well as the unrestricted reuse of, original works of all types for non-commercial purposes.
The author(s) permits HH Publisher to publish this article that has not been submitted elsewhere.