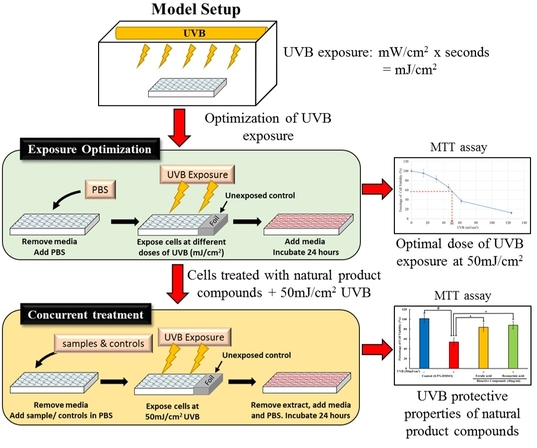 An Optimized Cosmetic Screening Assay for Ultraviolet B (UVB) Protective Property of Natural Products
Abstract
In an era where everyone is seeking everlasting youth, preventing photodamage by ultraviolet radiation (UVR) from the sun is of key interest to the cosmetic industry. Inhibiting the production of UVR-mediated reactive oxygen species (ROS) is often the targeted function of cosmetic products, and a suitably reliable model is needed to test this. Hence, the current protocol was designed to effectively analyze the ultraviolet (UV) protective effect of bioactive natural product compounds against photodamage caused by UVR, specifically UVB radiation.  Analysis of bioactive compounds that were previously reported to have UV protective properties using this model yielded data that showed the reproducibility and reliability of this model in determining UVB protective properties of the bioactive natural product compounds of interest. Thus, this  setup model can be used for future endeavors such as the study of UVB protective properties of other natural products or as a basis of a model for UVA and UVC protective designs. It has potential application in cosmetic studies, as this model can also be developed to be used as a quick screen on potential plant or biological extracts that are to be included in sunscreen formulations or other UV protective cosmetic products, thus reducing cost spent on research and development of new products. It can also be developed further to include studies using 3D skin tissue models, allowing more analysis to be done on any product developed.
References
Widel M, Krzywon A, Gajda K, et al., Induction of bystander effects by UVA, UVB, and UVC radiation in human fibroblasts and the implication of reactive oxygen species. Free Radic Biol Med, 2014. 68: 278-287.
Berkey C, Biniek K, and Dauskardt RH, Screening sunscreens: protecting the biomechanical barrier function of skin from solar ultraviolet radiation damage. Int J Cosmet Sci, 2017. 39(3): 269-274.
Kovacs D, Salvatore R, Enrica F, et al., Keratinocyte growth factor down-regulates intracellular ROS production induced by UVB. J Dermatol Sci, 2009. 54(2): 106-113.
Filip GA, Postescu ID, Pompei B, et al., Inhibition of UVB-induced skin phototoxicity by a grape seed extract as modulator of nitrosative stress, ERK/NF-kB signaling pathway and apoptosis, in SKH-1 mice. Food Chem Toxicol, 2013. 57: 296-306.
Bashir MM, Sharma MR and Werth VP, UVB and pro-inflammatory cytokines synergistically activate TNF-α production in keratinocytes through enhanced gene transcription. J Invest Dermatol, 2009. 129(4): 994-1001.
Nylander K, Bourdon JC, Bray SE, et al., Transcriptional activation of tyrosinase and TRP-1 by p53 links UV irradiation to the protective tanning response. J Pathol, 2000. 190(1): 39-46.
Imokawa G, Recent advances in characterizing biological mechanisms underlying UV-induced wrinkles: a pivotal role of fibrobrast-derived elastase. Arch Dermatol Res, 2008. 300(1): 7-20.
You YH, Lee DH, Yoon JH, et al., Cyclobutane Pyrimidine Dimers Are Responsible for the Vast Majority of Mutations Induced by UVB Irradiation in Mammalian Cells. J Biol Chem, 2001. 276(48): 44688-44694.
Scharffetter–Kochanek K, Brenneisen P, Wenk J, et al., Photoaging of the skin from phenotype to mechanisms. Exp Gerontol, 2000. 35(3): 307-316.
Tan LTH, Low LE, Tang SY, et al., A reliable and affordable 3D tumor spheroid model for natural product drug discovery: A case study of curcumin. Prog Drug Discov Biomed Sci, 2019. 2(1).
Ma DS, Tan LT-H, Chan K-G, et al., Resveratrol—Potential Antibacterial Agent against Foodborne Pathogens. Front Pharmacol, 2018. 9: 102.
Choi SW, Son BW, Son YS, et al., The wound-healing effect of a glycoprotein fraction isolated from aloe vera. Br J Dermatol, 2001. 145(4): 535-545.
Ribnicky DM, Kuhn P, Poulev A, et al., Improved absorption and bioactivity of active compounds from an anti-diabetic extract of Artemisia dracunculus L. Int J Pharm, 2009. 370(1): 87-92.
Tan LTH, Ser, HL, Yin WF, et al., Investigation of Antioxidative and Anticancer Potentials of Streptomyces sp. MUM256 Isolated from Malaysia Mangrove Soil. Front Microbiol, 2015. 6: 1316.
Tan LTH, Lee LH, Yin WF, et al., Traditional uses, phytochemistry, and bioactivities of Cananga odorata (ylang-ylang). Evid Based Complement Alternat Med, 2015. 2015.
Afaq F and Mukhtar H, Botanical antioxidants in the prevention of photocarcinogenesis and photoaging. Exp Dermatol, 2006. 15(9): 678-684.
Pérez-Sánchez A, Barrajón-Catalán E, Herranz-López M, et al., Lemon balm extract (Melissa officinalis, L.) promotes melanogenesis and prevents UVB-induced oxidative stress and DNA damage in a skin cell model. J Dermatol Sci, 2016. 84(2): 169-177.
ISO. ISO 24444:2010 Cosmetics — Sun protection test methods — In vivo determination of the sun protection factor (SPF). 2010 [cited 2018; Available from: https://www.iso.org/obp/ui/#iso:std:iso:24444:ed-1:v1:en.
FDA. Guidance for Industry Labelling and Effectiveness Testing: Sunscreen Drug Products for Over-The Counter Human Use - Small Entity Compliance Guide. 2012 [cited 2018; Available from: https://www.fda.gov/drugs/guidancecomplianceregulatoryinformation/guidances/ucm330694.htm.
Jang J, Ye BR, Heo SJ, et al., Photo-oxidative stress by ultraviolet-B radiation and antioxidative defense of eckstolonol in human keratinocytes. Environ Toxicol Pharmacol, 2012. 34(3): 926-934.
Kumar N, and Pruthi V, Potential applications of ferulic acid from natural sources. Biotechnol Rep, 2014. 4: 86-93.
Wang H, Provan GJ, and Helliwell K, Determination of rosmarinic acid and caffeic acid in aromatic herbs by HPLC. Food Chemistry, 2004. 87(2): 307-311.
Vostálová J, Zdařilová A, and Svobodová A, Prunella vulgaris extract and rosmarinic acid prevent UVB-induced DNA damage and oxidative stress in HaCaT keratinocytes. Arch Dermatol Res, 2010. 302(3): 171-181.
Lin XF, Min W, and Luo D, Anticarcinogenic effect of ferulic acid on ultraviolet-B irradiated human keratinocyte HaCaT cells. J Med Plant Res, 2010. 4(16): 1686-1694.
Goh BH, and Kadir AH, In vitro cytotoxic potential of Swietenia macrophylla King seeds against human carcinoma cell lines. J Med Plant Res, 2011. 5(8): 1395-1404.
Ambothi K, and Nagarajan RP, Ferulic acid prevents ultraviolet-B radiation induced oxidative DNA damage in human dermal fibroblasts. Int J Nutr Pharmacol Neurol, Pharmacology, Neurological Diseases, 2014. 4(4): 203-213.
Refbacks
There are currently no refbacks.
Copyright (c) 2019 Camille Keisha Mahendra, Loh Teng-Hern Tan, Wei Hsum Yap, Chim Kei Chan, Priyia Pusparajah, Bey Hing Goh

This work is licensed under a
Creative Commons Attribution-NonCommercial 4.0 International License
.